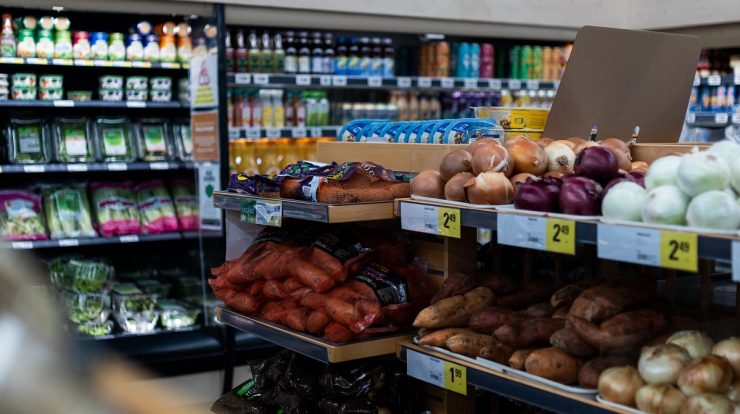 Whenever you want to buy anything, you search "local shopping stores near me", "local grocery store near me" or "local retail stores near me" in Google. The nearby markets are an imperative part of our lives for all our instant needs and specific demands.
Local businesses are fundamental to the local economy and the well-being of the community. Spend your hard-earned money in the very neighborhood you live in. In return, you are only making your entire community better than before. That is the value of shopping locally.
But you will lose such a privilege if you order from the delivery apps. Always be aware that delivery apps' success doesn't encourage a better neighborhood for you. They can only disturb what you already have and value. Local shopping has always played a major role in our lives. It was, is, and will continue to be.
Delivery apps are never part of your community or neighborhood. They are intruders who are interfering with what enhances and adds worth to your lifestyle. Delivery applications are on a mission to obliterate the value and kindness that local retailers have for you. This is a precious bond that OlaGate earnestly tries to save, strengthen and deepen as we move forward. OlaGate App shows local merchants based on your location and provides a platform for you to connect with your neighborhood for all of your requirements, necessities, and interests.
Delivery Apps Are Self-centered Unlike Your Neighborhood's local Stores
The sheer passion drives delivery Apps to succeed in their business. By the sole wish of making more profits and promising more returns to their investors. For this to happen, they always resort to extreme measures of disturbing the harmony and health of the neighborhood. The bond and love local businesses have for you are often destroyed by the extremist business practices and economic pollution delivery apps cause.
Attractive, shortsighted strategies are the ammunition that delivery apps use to curb the potential of the local stores. But the results are evident, your love local stores used to enjoy is visibly declining. The offers, discounts, and misleading advertisements fueled by mass data that delivery apps acquire are slowly diverting you from the previous consumerism you and your neighborhood enjoyed.
Delivery apps never empathize or understand your needs. They never care about your welfare or the value addition you deserve. Frankly speaking, they don't have time for that. They are nothing more than a spoilt sport for the best experience you naturally are awarded by the local stores. Local shopping is a major stimulant for a prosperous and thriving community.
No one understands the special, uplifting bond you share with your local stores than OlaGate. Never even expect the misleading delivery apps to empathize with you or your local stores.
Local stores always plan to thrive on your trust, faith, and satisfaction. Local stores' love for you is evident in their value addition to your life through their products and services. Besides, there are many reasons that concrete the fact that local stores' success actually paves the way for entire neighborhood success. Let us also see why a successful local store is important for a successful neighborhood.
Successful Delivery Apps Don't Invest Or Value Add To The Neighborhood, But Local Stores Do!
For a successful neighborhood, you need someone who cares, considers, and is conscious of your neighborhood's needs and welfare. Reliability, trustworthiness, and a consumer-centric approach are how local stores build and grow their businesses.
Delivery apps' life cycle runs in a completely contradictory approach to your well-being. You are a mere target that they would aim to reach. But delivery apps are in the business just to make more profits for themselves. This is just an iota of their toxic behavior. Local shopping's beauty is that with each order you are indirectly re-investing in the growth of the community.
Swastik is the owner of a bamboo artisan crafts business. Even though he is the owner of a niche business, he is nothing short of a true warrior. Beyond the current situations and crises, he is providing the best quality products with priceless dedication. With his products, he brings beauty to the household and grandeur to the neighborhood. Like everyone, the current scenario of the world has also disturbed his business. But he rose against all odds and enriched the community with his economic, craftsmanship, and entrepreneurial contribution.
The value addition that such local entrepreneurs add to the community is shaping the future for every individual sharing that neighborhood with opportunities, resources, and most importantly, hope. OlaGate is making sure that such brilliance of local stores shines in their true spirit. Because such spirit and light of local businesses lift up the morale and might of the entire neighborhood. Local shopping uplifts the lifestyle of every individual without compromising on the quality or quantity for that.
Love Local Stores And Businesses For Prolific Community And Elaborating Neighborhood
Isn't it fun to shop your products by trying and sampling by local shopping from your friendly shops nearby?
Success and love local businesses shine with a silver lining to the entire community. Individual success reflects upon the wholesome enhancement of the neighborhood, its individuals, and its families. Delivery apps cannot be this radiant spreading light for the sake of the community. They cannot be more than a misguided distraction and dumping center.
Care, concern, and love for local stores and businesses have always paid off in wonderful ways. It changes the whole persona of the community. More successful businesses mean more local economic flourishment. This eventually leads to better consumerism, better product and service experiences, and lifestyle improvement. In a way, the more you order from these local businesses, the more you are contributing to enhancing the lovely neighborhood you are sharing and living in. Delivery apps growth is pollution that you should avoid at any cost. You and your neighborhood should always avoid the marketing gimmicks that delivery apps use to attract your attention. Don't fall into the provocation trap to order from the delivery apps. The moment you realize that local stores' success is the lifeblood you and your neighborhood needs, you are a step closer to having a great community and a better standard of living in the neighborhood.
OlaGate Harnesses The Power and Goodness That Local Stores Has In It For The Neighborhood
To not let delivery apps hamper the wellbeing of the local businesses, OlaGate is partnering with the local businesses to channelize the efforts of their local stores for the neighborhood. Delivery apps are genetically incapable of striving for the neighborhood's good and development. OlaGate understands this innate behavioral pattern of the delivery apps. OlaGate realized that delivery apps' success is a hindrance to the health of every consumer and the community.
The success of the local stores is the success of the neighborhood. The success of every individual local entrepreneur and local business paves way for the development and goodness of the entire community. So, if you are wishing for a better livelihood in your community then order more from your shops nearby. The precious service your local stores offer you and the love local businesses have for you is everything that you need.
Keep in mind that the success of your neighborhood depends on the growth of your community's local stores. Local shopping became more fun with their enhanced online delivery services. Local shopping intertwines the community's lives with one another. Local stores, their families, and their lives are constructed around you and the service to the community. Keep ordering from them and stay away from the toxic delivery apps. Your well-being is the leverage and investment that local stores rely on.
Local shopping promises a great life in your all-around growing neighborhood. Continue the local shopping; thanks you can offer to the local stores and their entrepreneurial growth stories.