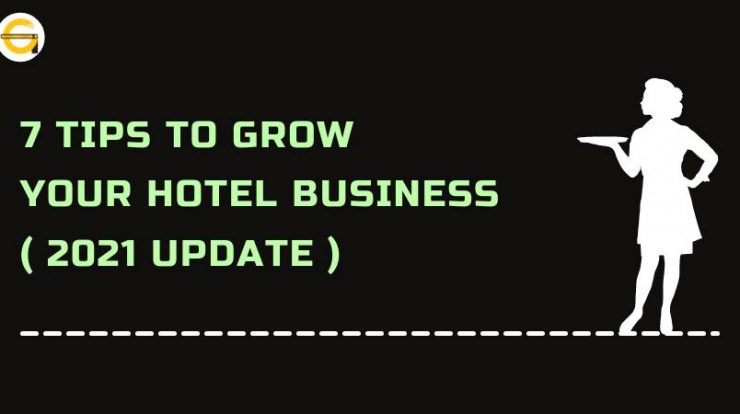 Running a hotel/restaurant or any food business is a daunting task in every way. We have witnessed a hard time during the pandemic since last year. When covid-19 smashed our lives, the hotel business was one of the worst affected businesses.
Do many hoteliers have the questions like how to improve the hotel business? Or how to get into a profitable hotel business? And many more. If you have started or plan to start a hotel/restaurant business, this article will help you.
This will not talk about how to start a hotel business? This article will check out seven practical ways to boost any hotel business with limited resources. If you apply all these factors to your business, your hotel business will get a hike quickly.
Why The Hotel Business Is Good

Before diving into the depth of our tips, let's check out the profit and perks of being in the hotel business. Profit is the primary purpose of any business. And it should be. But along with the wealthy profit hotel business would help you in

Making the new connection from various industry
Implementing discipline in your life
It Will teach you how to tackle the problems.
Wealth and human resource management
Permanent income source for the coming generations
All these could be the additional perks of running a hotel business. Along with that, one could find out more and more about how is hotel business in India. But that's not the topic of our discussion. Let's flock towards the essential tips to grow your food business.

1. Active Use of an Internet
Without any hesitation, anyone who is in any business can tell you the importance of the internet. The Internet has changed the dimensions of companies and the world. Those who couldn't make a match with it, sadly they lagged behind their competitors.

No need to describe here how rapidly people are getting engaged with the internet. It has become the vast potential to boost any business if used properly. There are multiple uses of the internet.

You can run paid advertisements for your business on the search engine result page. You can register your hotel/restaurant business on the business directory of any search engine so that local citizens or tourists can find your business efficiently.

2. Make a Presence On Social Media
When it comes to the internet, social media is the next obvious thing for any business. There are multiple pieces of research on the growing users of social media and how it's taking over our day-to-day life.

Everyone around us uses at least one social media app, and the average person spends nearly 4-5 Hrs on social media. It's a considerable time. Don't you want to take advantage of that habit of users to market your business strategically?

You don't need to be on every social media platform. It will consume a lot of time and energy. You can define your target audience by their age group, their profession, and their behaviors. According to that, you can choose an appropriate social media platform for your business.

Following social media handles will be helpful for any hotel business.

This is how you can improve the hotel business. Here are the quick statistics about the active demographics on the various social media platforms.

3. Don't Neglect the Customer's Reviews
Do people ask are hotel business profitable? Or how good hotel business? Here I want to tell you that, Satisfied customers are the more profound success key for any business. It is the customers who can market your business via mouth publicity, or they can demote it in the same way.

Let your customers speak about your business. And try to find out the space for improvement. People love to share their reviews. You just need to make a bond with them.

Again social media can play a crucial role in this process. Suppose your business page or handle is active on social media platforms. In that case, you will get lots of reviews from the customers who have been through your restaurant or hotel.

4. Tell The Stories
Storytelling has been a proven mantra of marketing. Stories provoke the sentiments. And more importantly, people love stories. The tale engages mass collectively. And it has no boundaries of race, religion, age, gender, etc.

Stories could be of anything. Starting from the struggle you faced so far, or any employee has or had some odd circumstances or the other story about your good deeds as a business.

But always keep in mind, these stories must be honest and trustworthy. Otherwise, it will harm your business in many ways. So hold your eye and ear open always and try to come with any story and spread it among your followers or customers.

For example, instead of listening to starting a hotel business in India, people will be more interested in hearing why to create a hotel business in India.

5. Keep an Eye On The Latest Trends
Trends in any industry keep changing. And people nowadays want to showcase their lifestyle. As a business, you must take advantage of these things. Suppose you are active enough on social media and the internet. In that case, you can get a terrific way to boost your business.

Just implement something latest, trendy to your business and promote it on your social media handles. I assure you if everything goes well, your restaurant will be the hub or weekend destination for many new customers.

You just need to keep yourself aware and a bit creative. Everything you will experience will amaze you. Always keep following few big brands in your business niche to get the latest trends and happening.

6. Be Readily Available To Your Customers
The time has changed. And so the; the lifestyle of your potential customers. People got engaged in their day-to-day life, many of them having no time to visit anywhere. Your business is not an exception. What to do in such a scenario?

Get in touch with your customers as much as you can. Be mobile-friendly, and be available for your customers with a single click. There are many apps on the internet that can help you to achieve this state of availability.

One we suggest being on OGFood. After registering your hotel business on this app, you can control and manage all your business via this app. A link will be generated for you containing all the details of your business. You can share that link with your customers and start taking orders immediately. It will help you a lot.

7. Make a Roadmap For Your Business
Without knowing the destination, one could never reach anywhere. The same thing applies to the business For every business. To measure your journey or utilize your time and money properly, you must prepare a roadmap for your business.

A roadmap will help you reach your target and help you decide how to get it. While aiming at your target, you can make strategies to achieve it. So be ready with the plan instead of asking what a hotel business plan is? Or how to plan for a hotel business?

If it is difficult to set a lifelong target, you can set a small or short-term target. Every time the achievement will boost your confidence and will keep you optimistic in any situation. Because without a progress card, any journey is meaningless. So plan your progress card to measure your journey.

Conclusion
This how a successful hotel business works. There could be more different and proven ways to boost any hotel business, but you just can't neglect the above-mentioned points to implement in your sphere.

This article has seen seven proven plans for any hotel or restaurant business to boost. Let's revise all the points again.
Active use of the internet.
Make a presence on social media.
Don't Neglect the customer's review.
Keep an eye on the latest trends.
Be readily available to your customers.
Make a roadmap for your business.