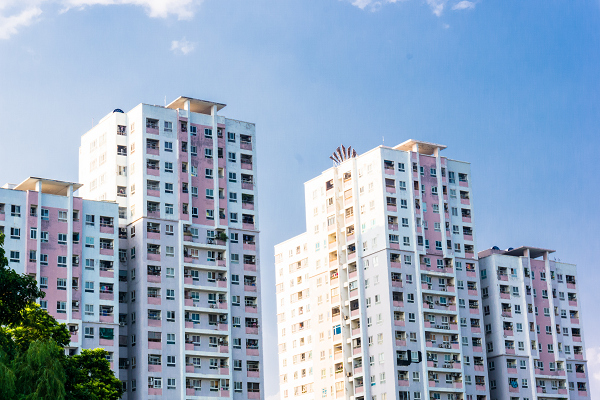 Are you planning to use an apartment management system in your housing complex? Learn why your apartment complex needs the OlaGate apartment management system.
Gone are the days when we would go down to the office of the housing society manager to pay our property maintenance dues by cheque and collect a receipt.
The coronavirus pandemic has transformed the management of housing societies and digitized most of the functions of apartment complex management.
In many ways, going digital has made it easier to manage all these disparate functions, from security to parking to the regular collection of housing society maintenance charges with the help of apartment management software.
With almost everyone having access to a Smartphone and internet, the growth of housing complex management apps has facilitated the adoption of these apartment management systems.

What is an apartment management system?
An apartment management system is a property management system for apartments. So what does a property management system for an apartment complex do?
The apartment management software ensures that all the processes related to security, parking and collection of maintenance from the residents and tenants run smoothly without interruption.
Property management services have been widely adopted by the hotel and hospitality industries, but the software for apartment management systems is different in that it handles all the tasks required for managing an apartment complex or housing society in the cloud.
Also known as housing association management software, a property management system in India ensures the smooth functioning of housing societies.
There are a number of apartment society management software and society management apps being created by property management companies as a Saas product. The OlaGate app is a brand new property management software.

What are the benefits of a property management system for apartments?
The apartment management software primarily functions as a property management system for communication with the residents and tenants in an apartment complex.
Here are 5 ways the OlaGate apartment management software can help the Residents Welfare Association (RWA) manage all the services provided to the residents smoothly and efficiently.

1. Build a secure online community for residents
Yes, nowadays we have access to all our neighbours through the building WhatsApp group. But we do miss the connections we used to have as kids, playing with other kids in the neighbourhood and visiting each other's homes.
So if you want to build a thriving community that is safe to live in and attracts the best new neighbours, where your kids can build wonderful childhood memories, you can use the OlaGate app to do that.
The OlaGate app connects homeowners and residents with their neighbours, HOA members, and property managers, making it easy for every resident to feel like they're part of a community that they're proud of.

2. Enhance your apartment complex safety & security
The apartment management software used by housing societies usually provides a dedicated app for the front desk or security. OGSecurity is the dedicated front desk app that is fully integrated with OlaGate.
OGSecurity helps the front desk or gatekeepers stay focused on your apartment complex security without the added distraction of check-in and check-out of visitors and package deliveries.
With the OlaGate property management system, you can feel secure in your neighbourhood thanks to the real-time notification of visitor and staff check-in, and confidence that you'll receive your mails and packages in time.

3. 24×7 app management for housing complex board members
The OGDesk feature helps the Residential Welfare Association (RWA) board members to connect with homeowners, residents, property managers and the front desk through an RWA customized dedicated App.
The housing complex board members can access, manage and track all the house complex activities 24×7 from anywhere through the OlaGate apartment complex management software.
This helps RWA members distribute their duties among themselves, delegate and coordinate tasks with the property management team and better manage the complaints, services request and changes requests from requests.
This fully-loaded housing association software is also equipped with features like Visitor Management, Daily Staff Management, Child safety, Payments Management, Emergency Alarm, eIntercom, ePoll, Survey, society feed and more.
Being able to access and manage all this remotely and anytime through their Smartphone allows RWA board members to continue to live their normal lives without worrying about compromising their housing society responsibilities.

4. Hire community referred & verified local service providers
The OlaGate App integrates with OGCare, a built-in services marketplace that helps society residents browse, review and hire local service professionals and vendors from the neighbourhood with the confidence that they have been verified and vetted by their neighbours.
Here are some of the benefits that OGCare offers:
· Get a complete history of the service professional's work in the neighbourhood
· Connect with your neighbours without asking for their personal contact
· Get an opportunity to take a closer look at the work done
· Compare multiple SPs based on community feedback
· Hire the right service professional with full confidence

OGCare tracks all maintenance requests and interfaces with the maintenance staff, service vendors, and suppliers to reduce costs and improve services.
5. Support & order from nearby food businesses through OGFood
During the pandemic, food apps gained a great deal of popularity as housing society residents began to order everything from food to provisions online. OGFood provides access to neighbourhood restaurants at your fingertips.
You can browse the daily menu and order delicious dishes from nearby restaurants, cafes and food trucks in real-time right from the OlaGate app. Provide feedback and be proud to support neighbourhood businesses to make your neighbourhood more prosperous and happy.

As you can see, the OlaGate apartment management software app is much more than just an apartment visitors management system. Our vision is to empower locals and reestablish a local trade network in this era of globalization.
OlaGate is a fast, light, and secure housing association software app focused on people and their connections and that makes us unique among all the cloud-based property management services in India.
Our property management app is fully funded by Indian investors, so when you download OlaGate you're supporting the Made In India movement to make the Indian economy self-sufficient and resilient.
At OlaGate, we believe that a happy neighbourhood is the key to a safe neighbourhood. Download the OlaGate app and join this movement today!