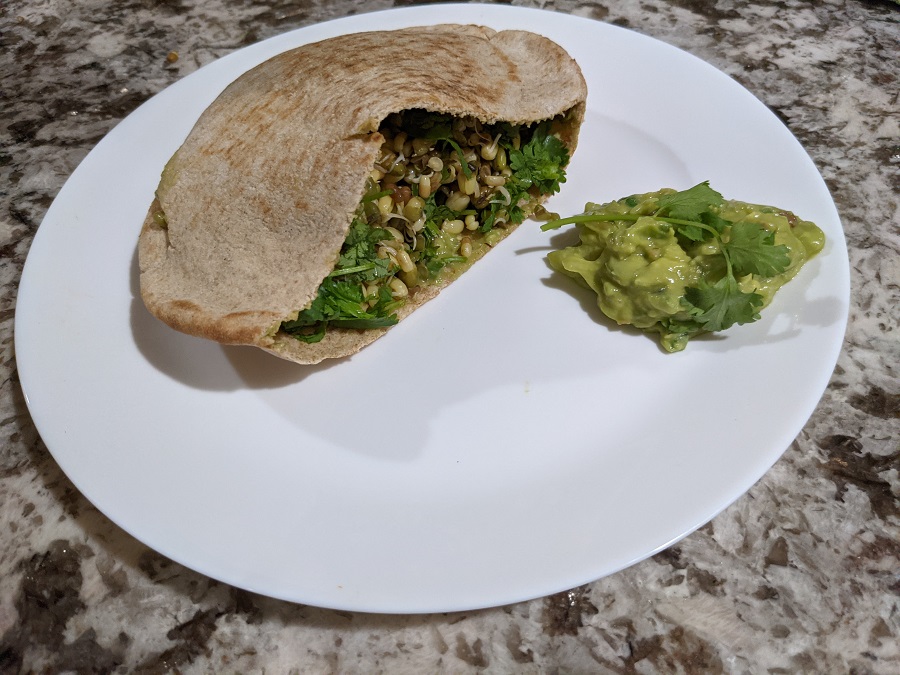 The most popular pitta bread food is Falafel Pitta, it's yummy.
But if you are health conscious, you may have been avoiding that as it comes with a bunch of deep-fried falafels.
You can count me on that.
Recently I discover my own pitta bread recipe, I call it "Healthy Pitta".
But who cares about the name, you call whatever you like it?
Let me tell you quickly, why & how I discover this recipe. First, I have been missing Falafel pitta & secondly, I am bored with Salad during this lockdown but can't give up on it as well. I already see the health impact of lockdown… 😀.
That's where the idea came up to make fusion recipes using Salad ingredients and Pitta avoiding deep-fried falafel.
So, let's dive into it.
Here is what gets into my Salad recipe.
I have been using soaked black & red beans, peas, and sprouted green gram(moong), cut vegetables & of course some fine cut leafy stuffy like spring mix, spinach, lettuce, etc.
To keep it simple and easy, for pitta salad, I decided to use only sprouted stuff & guacamole as a dressing.
Why guacamole? Don't forget our objective is to keep it healthy, right? But if don't like that replace it with something you like, but try to avoid some readymade dressing. Make it something at home like with green chili & mint (pudina), or peanut & garlic, etc for my salad.
So here are the steps to follow.
#1. Take nicely sprouted green gram (moong). I am using a mix of green and brown. 2 small cups of sprouted moong should be enough for one pitta.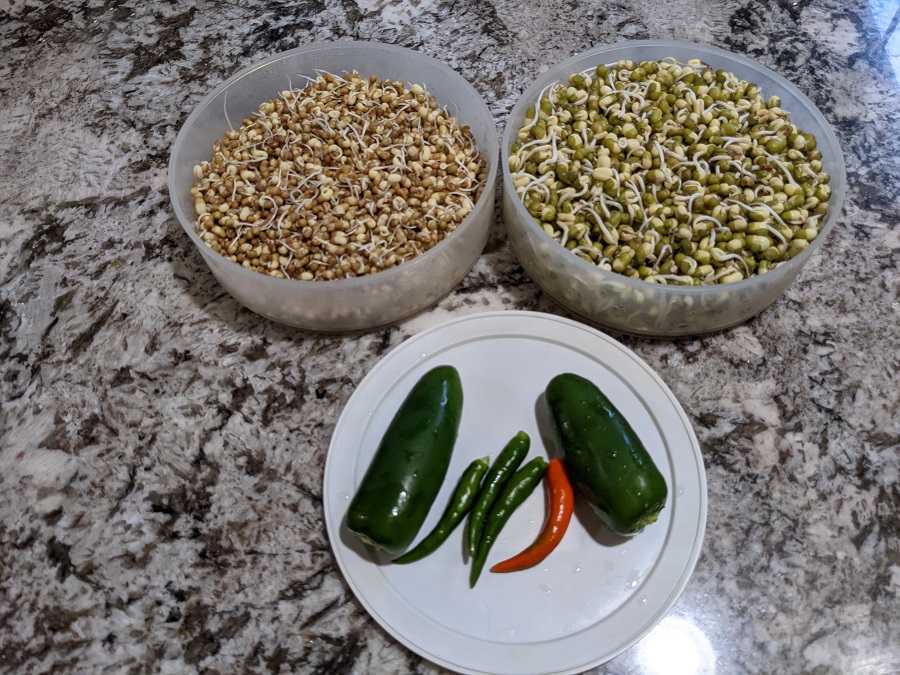 #2. I don't like the raw sprouted stuff, so I roast it with a small quantity of olive oil, cut green chili, cumin & mustard seed. Use the quantity of chili and salt as per your taste.
Please note, we are just roasting those, not cooking them.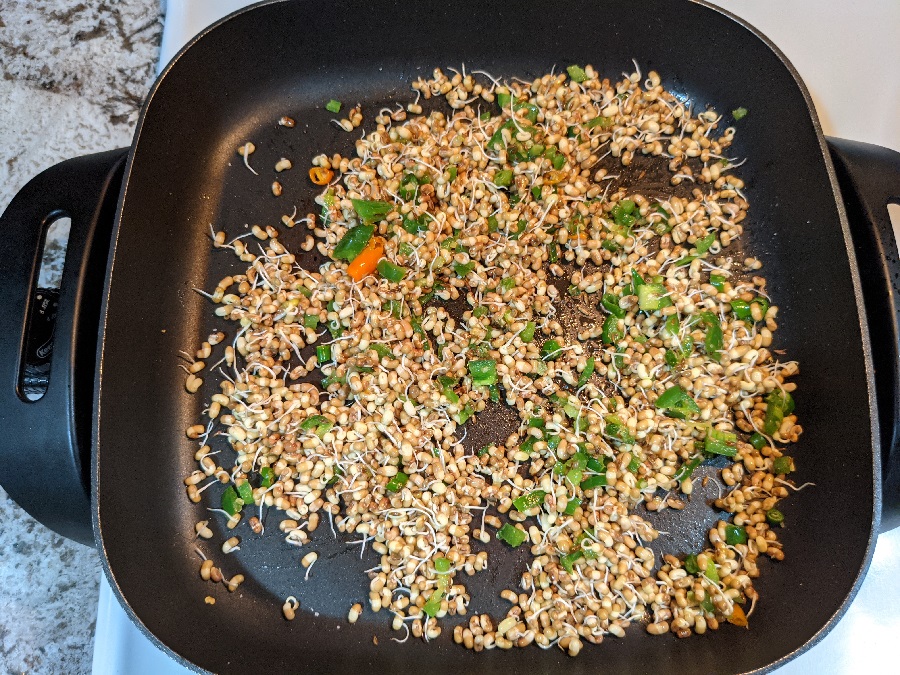 #3. Take a pitta bread and warm it a little, especially if it's coming out from your refrigerator. Cut ¼ from one side and open it gently. As all the stuff goes inside the pitta keeping it nice intact is important.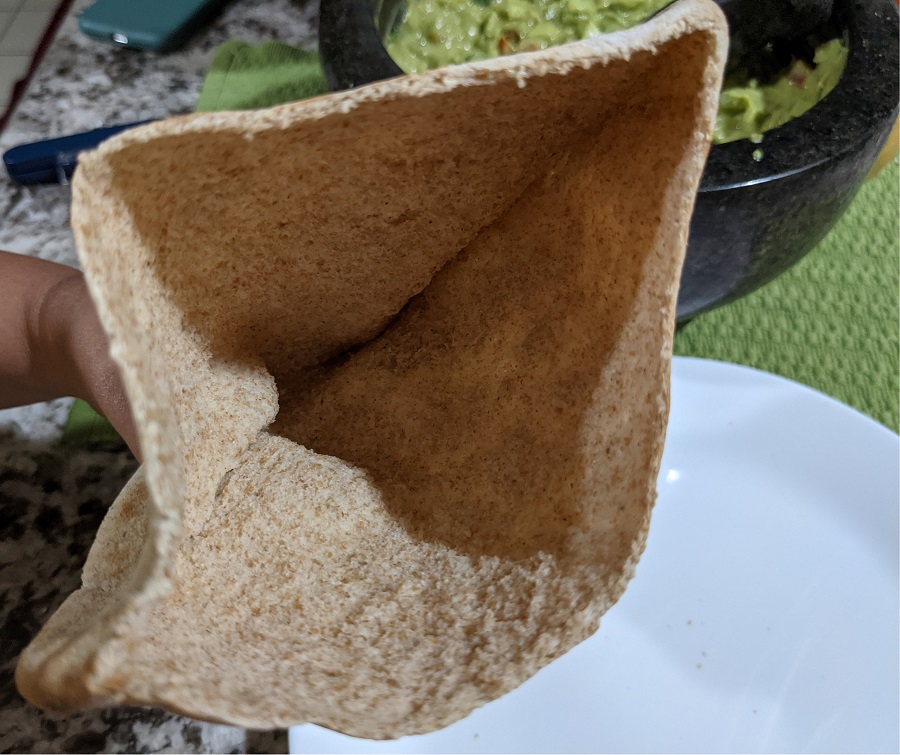 #4. Grab the guacamole. If you can make it at home, it's good, it doesn't take long.
Just take one jalapeno or a couple of chilis, small onion, small tomato shells. Cut those into small pieces & smash them with one avocado. Add lime or lemon juice and salt for the taste and mix it nicely. That's it, your guacamole ready. Check out my other post for detailed steps.
Spread guacamole with the spoon on both sides of the pitta. Hey wait, what are you doing, it's from inside not outside… lol
You got it, right?
#5. Open the pitta bread nice & wide, just make sure you don't tear it off.
Add one cup of roasted sprout stuffing, next add some cheese & then add the second cup of roasted sprout stuffing.
On top, you can either add leftover guacamole or some other healthy dressing.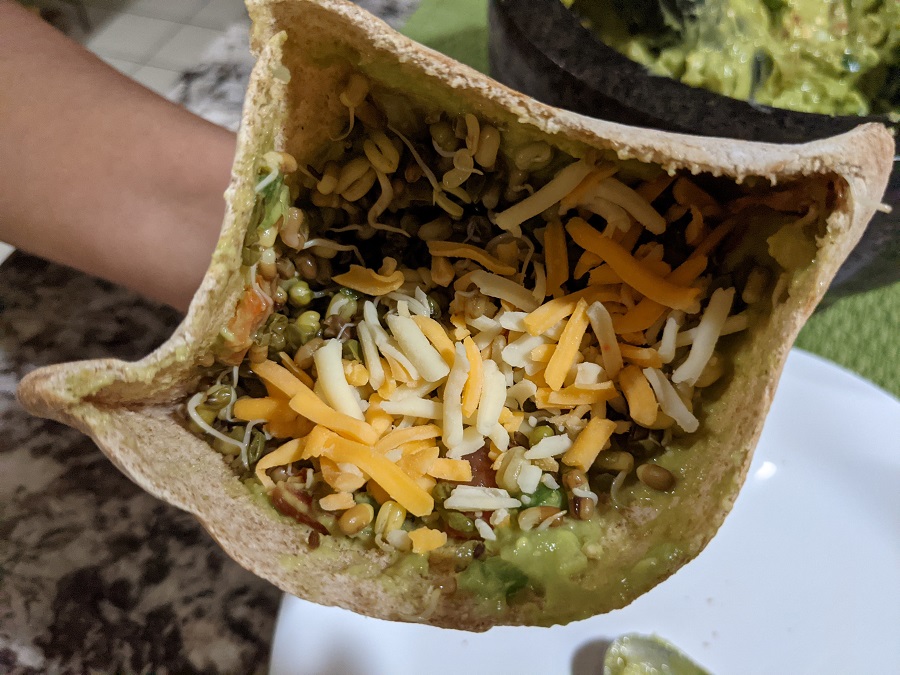 That's your healthy pitta salad ready. Enjoy it.
Keep experimenting, I am sure you will discover your own version of the recipes. But don't forget to share with us.
If you want to take it to next level, don't forget OGFood is here to help.
Stay Healthy. Stay Managed. Stay Connected with OlaGate.